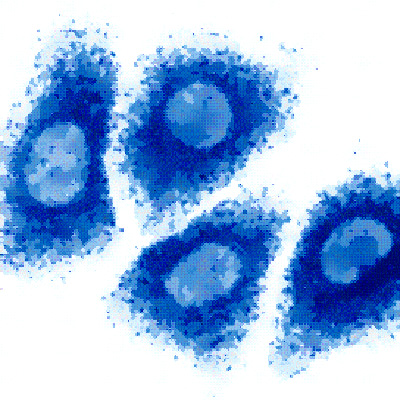 Warning: This post is rated WTF. I am going to try to spin a little conceptual magic here in attempt to think about things a bit differently. Because I am merging thought from two worlds – advertising and web architecture – it might not make sense to anyone. But I figure that maybe there is one person crazy enough to understand/comment/help me through this insanity.

Advertising is dead. Long live advertising. 
People have been yammering about the bottom being pulled out from page-view centric methodologies of advertising for years. In particular, the CPM model – or cost/1000 impressions – has been spiritually beaten up for its lack of accountability. At the same time, however more and more people are going online and – despite the economic hubaloo – so are the dollars.  So where is the money going to go if CPM is not the long-run solution?
It's not just about reach and frequency – it's about spread.
I believe that the traditional performance-based models are just the beginning. As we shift towards engagement-centric models, advertisers are demanding new metrics that effectively quantify how their message is being delivered AND received.  They are no longer satisfied with reach and frequency, but instead want to know how their messages are spreading and shifting as they make their way through services like Facebook, Twitter, YouTube and more. These two shifts should be looked at as parallel. Siloed pages are giving way to connected applications. And impression based programs will eventually give way to programs that leverage the connected nature of those applications to deliver and understand the dissemination of their message.
Web Services connect applications

So for those of you that are geeks, you know that a service-oriented architecture calls for distributed applications to be run on top of a loosely-coupled stack of interoperable web services, or APIs.  For non-geeks, this means that information will no longer only be accessed like that information in a magazine – simply through reading. Instead, the data powering all those websites will be exposed to programmers via web services. Think of web services as reusable building blocks for programmers to create an application. For instance, a programmer could build a browser-based application using Google's mapping capability and Twitter's messaging platform to show how information is flowing around the world.
Connected applications unleash Viral Marketing opportunities

Advertisers want to understand the 'spread' of their messages.  As more people communicate via Facebook, Twitter, email, and more a unique opportunity to track message distribution ACROSS these channels is emerging.  And as you know, what can be measured can be managed.
As we have watched the web transform from a technical perspective, we have also been engaged with advertisers.  Their Nirvana is as follows:
I spend strategically to arm brand advocates with a message
Advocates spread the word efficiently
I can track the distribution of that message
And I pay on performance – nothing more
This Ad Nirvana could be closer than you think. Web services have unleashed the next generation of performance-based viral marketing. As browser-based applications integrate with popular web services like Twitter, Facebook, IM, and more  'viral' experiences to be delivered via cross-application messaging.   Moreover, because of advancements in metrics technology and social networking data availability, it is now possible to literally watch and optimize your message per user and watch distributed communities and discussions form around your content.
Service-Oriented Advertising
I call this concept Service-Oriented Advertising. People will pay to have their messages delivered across services.  It's a bit geek-shique, but the idea is that marketers will seed the delivery of their message through multiple web services, or channels, and pay for the enhanced distribution of their messages on a performance basis.  There are some primitive versions of this that exist today.  The CPI, or cost-per-install, model for widgets is a subset of this paradigm.  People pay for their message (widget) to get distributed across a subset of channels (social networks) on a performance basis (install on a page).